Ethiopian Maritime Training Institute
Company Info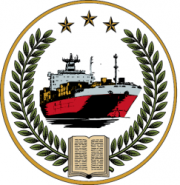 Ethiopian Maritime Training Institute
Company Description:
The Ethiopian Maritime Training Institute (EMTI S.C.) is a private company established to provide professional maritime training for Ethiopian Engineering graduates. Through its elite maritime training program, EMTI has established superior standards for selecting and training its Cadets to become world class Marine Engineers.
In partnership with
Bahir-Dar University (BDU)
, EMTI S.C. is training more than 500 Marine Engineering and Electro Technical Officers annually, and this number will increase to more than 1,000 officers annually. EMTI S.C. training center is located on Lake Tana shore in Bahir-Dar of the Amhara region. The Maritime Academy's training program, certification and assignment arrangements fully comply with international standards and regulations such as Standards of Training, Certification and Watchkeeping (STCW) and the Maritime Labour Convention (MLC, 2006) and IMO module courses. EMTI candidates must obtain a 5-year university degree in mechanical or electrical engineering and successfully complete university level courses in English.
Through its collaboration with the
EMA Ethiopian Manning Agency GmbH (EMA)
, EMTI also facilitates the employment of its graduates with world renowned shipping companies.
For more info, please visit our website
www.emticorp.com
Email id :
SAgnihotri@emticorp.com
Jobs by Ethiopian Maritime Training Institute